4.8mm Aluminium Steel Domed Head Black Colored POP Rivet
Features
Our aluminium steel domed head rivets are available in a wide range of materials and head styles. Our range of aluminium steel domed head rivets are Suitable for applications with low load bearing requirements. They are designed for fastening in a fast and simple way especially when a high torque force is not needed.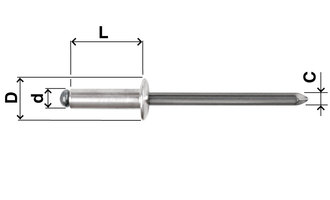 | Diameter (d) | Length (L) | Flange Diameter (D) | Drill Size | Grip Range | Part Number |
| --- | --- | --- | --- | --- | --- |
| 4.8mm | 10.0mm | 9.5mm | 4.9mm | 4.5 - 6.0mm | FRD4810ASBLACK |
| 4.8mm | 12.0mm | 9.5mm | 4.9mm | 6.0 - 8.0mm | FRD4812ASBLACK |
| 4.8mm | 16.0mm | 9.5mm | 4.9mm | 10.0 - 12.0mm | FRD4816ASBLACK |
| 4.8mm | 20.0mm | 9.5mm | 4.9mm | 14.0 - 16.0mm | FRD4820ASBLACK |
| 4.8mm | 25.0mm | 9.5mm | 4.9mm | 18.0 - 21.0mm | FRD4825ASBLACK |
Rivet Specification
| Rivet Size | Rivet Type | Head Type | Body Material (C) | Mandrel Material (D) |
| --- | --- | --- | --- | --- |
| 4.8mm | Standard Colored | Domed Head | Aluminium | Steel |
4.8mm Aluminium Steel Domed Head Black Colored POP Rivet
Benefits
The Fastener does not deform surfaces after the riveting process is finished (painted, glazed surfaces, etc)
It has a Good resistance to temperature variations.
The Fastener does not loosen from dynamic stress (vibrations in general)
It has a Fast, simple and great quality assembly.
The riveting process is environmentally friendly, free of smoke, sparks, fumes, etc.
It requires simple, fast and lightweight tools.
Types of Applications
Automotive industry Bodyworks
commercial vehicles
Electronics
Air Conditioning and Heating
Construction
Metal industry
Metal furniture
Electrical appliances
Ladder manufacturing
No questions or answers have been posted about this item.
Part On delivers orders using Road Transport Courier Service. This is to ensure the goods are delivered safely and effectively to customers. We offer an option to upgrade to an AM delivery for an extra charge to you, the customer, and this can be arranged by telephone to Part On office 0121 439 7152.
Orders are dispatched using 24/48 hour Road Transport Courier Service for UK Mainland.
Offshore orders can be delivered for an extra charge, including Southern Ireland.
Any aluminium profile orders which are below 6000mm will be a 1-2 day estimated lead time before dispatch due to production cuts.
Deliveries must be ... Read More
Return of goods…. contact must be made within 5 days from receipt of goods or collection, where a return reference will be provided.
Goods must be in good condition, unused, not damaged and returned in the packaging the goods where sent out in, so that goods can be resold
Once received, the goods will be inspected and credit arranged once all checks have been passed.
Any damages or specially ordered items that would not normally be stocked may occur a handling charge
Any carriage charged previously paid would not be refundable.
All returns must be returned to Part-on Tools Limited, with ... Read More Read more...