Gesipa Taurus 3 Air Riveter
Features
The Gesipa Taurus 3 Air Riveter is used to fasten blind rivets in a wide range of materials including Aluminium, Steel & Stainless Steel.
Since the market introduction of the TAURUS® 2 in the year 2002, the TAURUS® series has managed to convince thousand times over in trade and industry. The TAURUS® 2 especially is a true all-rounder.
The TAURUS® tool series is equipped with a high-performance, patented grip mechanism and jaw system. The optimum utilisation of the compressed air ensures maximum thriftiness, efficiency and greenness.
01 Modular principles
Widest possible parts commonality – low spare part stocks required and simple maintenance
Flexible adaption to new applications
02 Power
High setting forces combined with low weight
Fast work cycle
Optimised stroke for the entire series
03 Patented handle mechanism
With forcibly actuated jaws by pneumatic pressing
Safe, non-slip gripping of the rivet mandrel
Just one model of jaws for all tools
Very long service lives
04 Efficiency
Little compressed air consumption thanks to dual function: setting the rivets and extracting the spent mandrels using the same air
Air suction needed only for vertical downwards riveting. Can be permanently switched-off if not needed.
05 Work comfort / safety
Rubberised, moulded grip
Balanced center of gravity
Low-vibration and soundproofed
Little activation force required
Spent mandrel container with swivelling air deflector
Overpressure valve for prevention of overload
Integrated protection feature prevents the ejection of spent mandrels while the spent mandrel container is removed
Benefits
Lightweight, Fast Operation
Ideal For High Volume Production
4.8mm - 6.4mm Setting Capacity
25.0mm Stroke
18.000N Traction Power
Capable Of Setting Structural Rivets
Nosepiece's Included
Do you require a tool repair / service? Click Here!
Setting Capacity (Standard Rivets)
| Rivet Type | Aluminium | Steel | Stainless Steel | Nose Piece Included |
| --- | --- | --- | --- | --- |
| 2.4mm | | | | |
| 3.0mm | | | | |
| 3.2mm | | | | |
| 4.0mm | | | | |
| 4.8mm | | | | |
| 5.0mm | | | | |
| 6.0mm | | | | |
| 6.4mm | | | | |
Please Note: In order to set 4.8mm & 5.0mm aluminium & steel rivets you may need to purchase an additional nosepiece depending on your fastener.
Setting Capacity (Structural Rivets)
| Rivet Type | Mega Grip | Monobolt | FARBOLT | Nose Piece Included |
| --- | --- | --- |
| 4.8mm | | |
| 6.4mm | | |
| Rivet Type | G-Bulb | Avinox | TAMP | Nose Piece Included |
| --- | --- | --- |
| 4.8mm | | |
| 6.4mm | | |
Please Note: Tool can only set 6.4mm G-Bulb | Avinox | TAMP rivets in steel not stainless.
Gesipa Taurus 3 Air Riveter
| Specification | Gesipa Taurus 3 |
| --- | --- |
| Brand | Gesipa |
| Model | Taurus 3 |
| Part Number | 1457871 |
| Type | Air Riveter |
| Setting Capacity | 4.8mm - 6.4mm |
| Contents | Gesipa Taurus 3 Air Riveter & Selected Set Up. |
| Weight | 1.9kg |
| Air Consumption | Approx. 4,8 ltr. per rivet |
| Air Hose Connection | 6mm Ø (1/4") |
| Operating Air Pressure | 5 - 7 bar |
| Operating Mode | Compressed air |
| Stroke | 25mm |
| Traction Power | 18.000 N at 6 bar |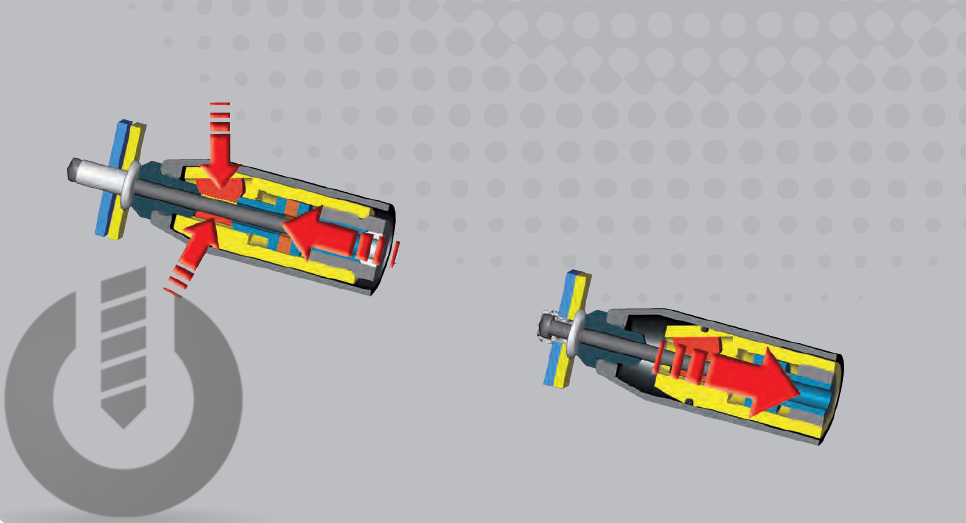 The TAURUS® tool series is equipped with a high-performance, patented grip mechanism and jaw system
Patented jaw system
The three jaws move in separate channels while being under forced control.
The jaws are pressed onto the mandrel by using compressed air instead of spring force – the force being ten times higher than usual.
Due to the high pressure the jaws immediately cling to the mandrels upon triggering the riveting process, only then the pulling movement starts.
GESIPA®-system – decisive advantages
The complete stroke of the tool is used for setting the rivet guaranteeing a reliable setting process.
The immediate and non-slip grip of the mandrel reduces abrasion and troublesome soiling.
Since the jaws do not slide along the mandrel, the wear and tear of the jaw profiles is reduced.
Lower costs due to longer service life and low requirements regarding maintenance and spare parts needed.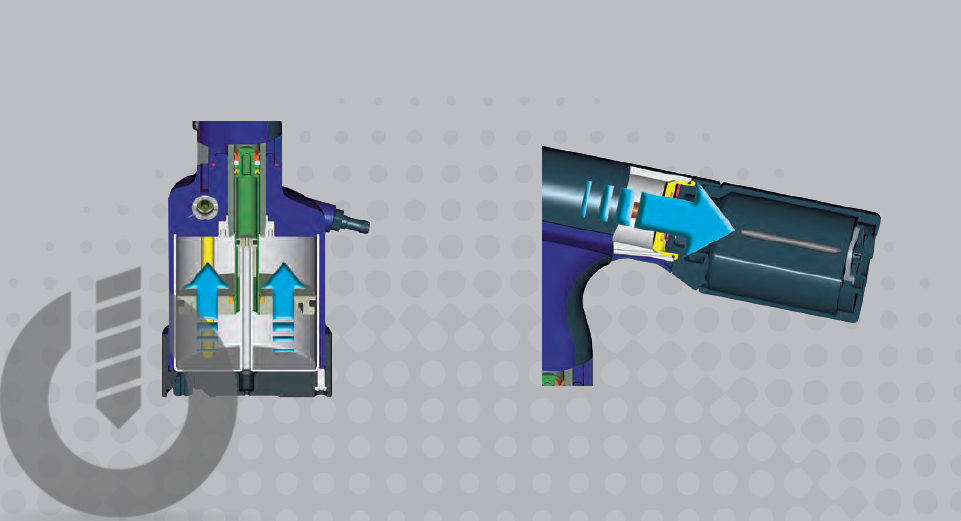 The GESIPA® System – Optimum use of compressed air ensures maximum efficiency and low operating costs.
Compressed air is used very often in industrial production because of its flexibility. It does, however, cause relatively high costs and its consumption damages the environment. These disadvantages are more than enough reason for GESIPA® to equip the TAURUS® tool series with a special technique that allows to save compressed air and is unique throughout the world.
The GESIPA® System uses the compressed air required for the setting process twice. First, to set the blind rivet and secondly, to extract the spent mandrel. Dual use of the compressed air means no expensive, fresh compressed air is needed which other tools on the market constantly need just to extract the spent mandrel. And, last but not least, noise emission from the TAURUS®-tools is extremely low.
In two-shift operation and with compressed air costs of approximately € 0.03 per m³ this innovative technique allows savings of up to € 720 per year and tool. A TAURUS® 1 can pay for itself in less than one year.
Versatile accessories complete the range!
The modular concept for the TAURUS® series 1-4 lets the user customise the TAURUS® devices to match his individual requirements. Many identical parts that can be used across all devices reduce the need to stock spare parts
and make maintenance easy. This wide range of options provides the user with a high degree of flexibility. Each device in the TAURUS® series 1-4 can be fitted with many different spare parts or refitted according to the application.
We also have more Taurus 3 Options & Accessories Available such as:
Taurus 3 Counters - Cost-effective variant for monitoring the number of setting strokes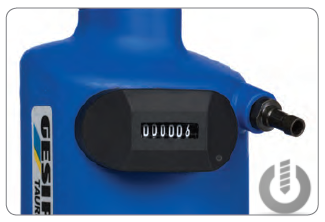 Taurus 3 Mounts - For integration into automated systems or connection to handling modules.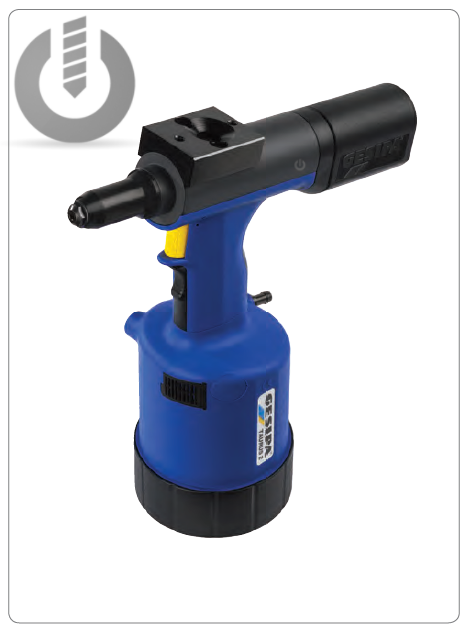 Taurus 3 Extended | Angle Heads - Ideal for use in tight spaces.
Gesipa Taurus 3 Riveter With PH2000 Spent Mandrel Container
The fixed mounted, large PH 2000 mandrel container is very sturdy and particularly suited to long mandrels from 50mm to 70mm in length. The container fits all TAURUS® versions 1 to 4.
Gesipa Taurus 3 Riveter With Spring Trigger Loaded System
The spring-loaded trigger system ensures that the components which are to be riveted are reliably placed one on top of the other gap free prior to the riveting process. Furthermore, this ensures that the blind rivet reaches its end position in the bore prior to the setting process and that the setting head is in the right position. The pressure force can be variably applied depending on the application. The spring-loaded trigger system cannot be retrofitted but is supplied completely attached.

New features: Adjustable range from 15 to 75 N / Guaranteed easy-to-apply contact / force by use of springs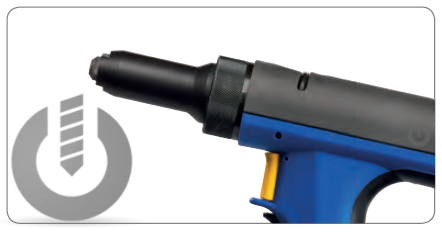 Please contact us should you require any additional advice, Have any further queries or need information on prices & availability.
No questions or answers have been posted about this item.
Part On delivers orders using Road Transport Courier Service. This is to ensure the goods are delivered safely and effectively to customers. We offer an option to upgrade to an AM delivery for an extra charge to you, the customer, and this can be arranged by telephone to Part On office 0121 439 7152.
Orders are dispatched using 24/48 hour Road Transport Courier Service for UK Mainland.
Offshore orders can be delivered for an extra charge, including Southern Ireland.
Deliveries must be signed for on delivery, no shipments are left without a signature. Should the delivery not be possible at the designated address ... Read More
Return of goods…. contact must be made within 5 days from receipt of goods or collection, where a return reference will be provided.
Goods must be in good condition, unused, not damaged and returned in the packaging the goods where sent out in, so that goods can be resold
Once received, the goods will be inspected and credit arranged once all checks have been passed.
Any damages or specially ordered items that would not normally be stocked may occur a handling charge
Any carriage charged previously paid would not be refundable.
All returns must be returned to Part-on Tools Limited, with ... Read More Read more...