30 x 30mm Aluminium Strut Profile | Genuine Bosch Rexroth

Features
Genuine High Quality Bosch Rexroth Aluminium Strut Profile, Brought to you by Part-on Authorised Bosch Rexroth Distributors.
Specification
| Technical Data | Bosch Rexroth Aluminium Strut Profile |
| --- | --- |
| Brand | Bosch Rexroth |
| Part number | 3842 990 720 |
| Type | Aluminium Strut Profile |
| Size | 30 x 30mm |
| Slot Size | 8mm |
| Weight (Per Metre) | 0.9kg |
| Profile surface A [cm2] | 3.10 |
| Moment of inertia I x [cm4] | 2.8 |
| Section modulus Wx [cm3] | 1.8 |
| Description | Aluminium Strut Profile | 8mm groove | 30 x 30mm | Genuine Bosch Rexroth |
| Material | Aluminium | Anodized Finish |
Please Note:
We have a wide range of lengths available. However, If you wish to have your profile cut please contact our sales office via email: sales@part-on.co.uk or call us 0121 439 7152.
If you wish to order longer lengths than we have advertised please contact us and we will provide an additional quotation for your required length.
Each cut reduces available profile by 3.0mm. Please allow this when calculating cuts.
Example: Required 600mm Cut from a 1000mm Bar you will be left with a 397mm offcut
30 x 30mm Aluminium Strut Profile | Genuine Bosch Rexroth
Size: 30 x 30mm
Slot Size: 8mm
Important factors need to be considered when selecting aluminium strut profile. Factors such as Load, Performance and Design are crucial. Profiles with 8 mm groove are ideal for medium-stress applications.
Some Construction Example's With This Material
Work Benches

Work Trolleys

Work Frames

Work Partitions

Work Tables

Light-Weight Appliances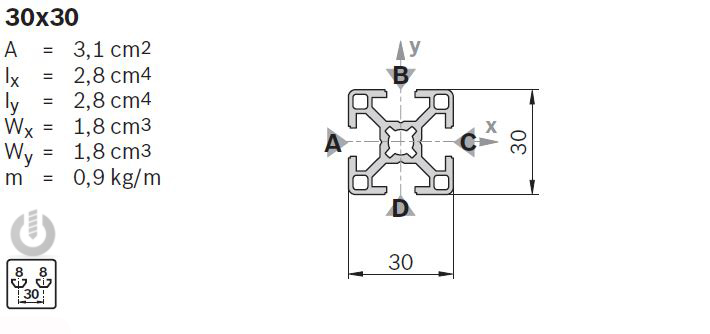 A Many thanks for your question, The 3030LPP Part-On Profile is approximetly 0.74Kg/m.
A Yes we do, please email sales@part-on.co.uk with your enquiry for a quotation.
Part On delivers orders using Road Transport Courier Service. This is to ensure the goods are delivered safely and effectively to customers. We offer an option to upgrade to an AM delivery for an extra charge to you, the customer, and this can be arranged by telephone to Part On office 0121 439 7152.
Orders are dispatched using 24/48 hour Road Transport Courier Service for UK Mainland.
Offshore orders can be delivered for an extra charge, including Southern Ireland.
Any aluminium profile orders which are below 6000mm will be a 2-3 day estimated lead time before dispatch due to production cuts.
Deliveries must be ... Read More
Return of goods…. contact must be made within 5 days from receipt of goods or collection, where a return reference will be provided.
Goods must be in good condition, unused, not damaged and returned in the packaging the goods where sent out in, so that goods can be resold
Once received, the goods will be inspected and credit arranged once all checks have been passed.
Any damages or specially ordered items that would not normally be stocked may occur a handling charge
Any carriage charged previously paid would not be refundable.
All returns must be returned to Part-on Tools Limited, with ... Read More Read more...